Anushka Sharma posted a special story on her Instagram account on Wednesday (November 15) to celebrate her husband Virat Kohli's record-breaking ODI fifty century . The iconic batsman helped India beat New Zealand by 70 runs in the first semi-final of the 2023 World Cup at the Wankhede Stadium in Mumbai.
India batted first in the match and after Virat Kohli and Shreyas IyerMohammad Shami then led India home in defense with a stunning seven-wicket haul.
Virat Kohli created history in his first innings by becoming the first batsman to hit 50 ODI centuries.he goes beyond Sachin TendulkarThe total is 49 and now stands alone at the top.
Kohli celebrated the milestone emotionally by bowing to Sachin Tendulkar in the stands. He then also gestured to his wife Anushka Sharma, who cheerfully blew him a kiss.After the game, Anushka Sharma posted an appreciation of her Instagram account Virat Kohliwriting:
"God is the best script writer. Thank you so much for blessing me with your love and watching you continue to grow and achieve everything you have and want and always be true to yourself and this sport. You truly are the best. son of God."
You can watch Anushka's story below: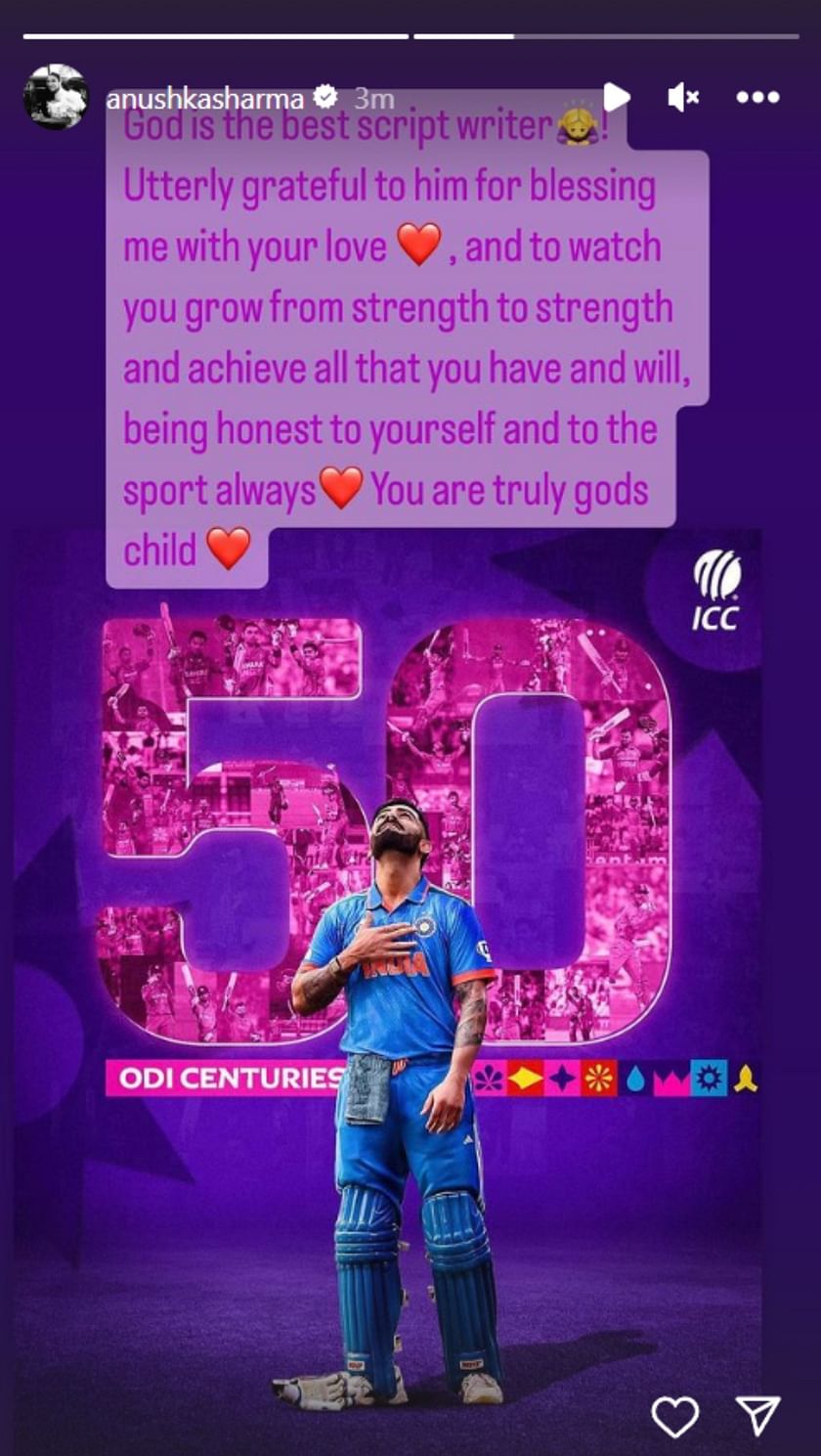 ---
'This is the stuff of dreams' – Virat Kohli scores 50th ODI century in front of Sachin Tendulkar and Anushka Sharma
During the half-time break, Virat Kohli expressed his gratitude for the opportunity to score a historic 50th ODI century in front of his wife and cricketing idol. He said:
"This is the stuff of dreams. Anushka was sitting there and Sachin Paji was in the stands. It's hard for me to explain how I feel. If I could paint a perfect picture, I would hope this would be it. "
He continues:
"My life partner, the person I love the most is sitting there, my hero is sitting there and I was able to get my 50th ODI hundred in front of all of them, all these stands too in the Wankhede, such a historic place. venue, so that's great."
Do you think Virat Kohli will continue with the same form and hit the winning shot again in the final? Please share your views in the comments section.