Key events
Report: DeSantis aides in 'heated argument' over campaign direction
Two senior team members of Ron DeSantis's flailing presidential campaign almost came to blows during a meeting last week to discuss how to counter Nikki Haley's rise in the polls, NBC News is reporting.
According to the network, Jeff Roe, chief consultant for DeSantis's Never Back Down political action committee, got into "a heated argument" with longtime DeSantis associate and PAC board member Scott Wagner, the two being stopped just short of a physical altercation.
"You have a stick up your ass, Scott," Roe allegedly fumed at Wagner during the meeting in Tallahassee last Tuesday.
"Why don't you come over here and get it?" Wagner responded, rising from his chair, according to NBC. Wagner was "quickly restrained by two fellow board members", the network's report said, adding its information came from sources in the room.
Florida governor DeSantis, once seen as a viable rival to runaway leader Donald Trump in the race for the 2024 Republican presidential nomination, has been tanking in numerous opinion polls, even in his own state.
He appears to be an an opposite trajectory to former South Carolina governor Haley, whose "surging poll numbers and newfound affection from megadonors pose an existential threat to the Florida governor's campaign," NBC said.
DeSantis campaign insiders have indicated that the candidate and his wife Casey DeSantis, a former television news presenter who has assumed an increasingly prominent role in his political career, are growing unhappy at the performance of the Never Back Down PAC leadership.
Both DeSantis and Haley, however, still trail Trump by a substantial margin.
The unseemly scenes in DeSantis's campaign meeting mirror those of last week's Senate labor committee meeting when Oklahoma senator Markwayne Mullin rose from his seat and challenged a Teamsters union official to a fight.
We've been bringing you updates for much of the day from Wisconsin's supreme court, where arguments have tilted back and forth over the state's gerrymandered legislative maps.
According to the Guardian's Sam Levine, and Alice Herman in the courtroom in Madison, the panel's liberal majority appears poised to strike down the existing Republican-drawn maps and end the party's stranglehold on both legislative chambers of government.
But it's unclear what that would mean for a redraw of the maps, or if special elections would be needed to fill legislative seats next year.
Here's our latest report on today's developments, and a look at what might come next:
A newly-elected Florida Republican state congressman has filed legislation that would effectively ban any LGBTQ group in the state from receiving taxpayer funding.
A House bill by Ryan Chamberlin would bar any non-profit from using "sexual orientation or gender identity" as a factor in any application for state contracts or grants, Florida Politics reports.
The proposal was immediately criticized by Democrats, who see the bill as an extension of the Republican-dominated legislature's well-documented assault on LGBTQ+ rights, including the infamous "Don't Say Gay" bill and other restrictions championed by hard right governor Ron DeSantis.
The bill is "bigoted, unnecessary and highly unconstitutional", Democratic state representative Anna Eskamani said on X, adding that groups such as Equality Florida would essentially be banned from existing.
Chamberlin captured his central Florida seat in May with 79% of a special election vote, promising at the time: "There's work to be done. I'm excited to help with that."
Missouri supreme court won't hear abortion question appeal
Missouri's supreme court won't hear an appeal by Republican secretary of state Jay Ashcroft over the wording of ballot question on access to abortion, a win for advocates attempting to enshrine protections for the procedure.
A state appeals court ruled last month that wording asking voters if they were in favor of "dangerous and unregulated abortions until live birth" was politically partisan.
On Tuesday, the state supreme court declined to hear Ashcroft's appeal of that ruling. Missouri's Republican controlled legislature banned abortion except in cases of medical emergency after the US supreme court last year overturned the Roe v Wade ruling and ended 50 years of federal protections.
In all seven states where abortion has been on the ballot since, voters have either supported protecting abortion rights or rejected attempts to erode them.
Here's our state-by-state guide to where abortion laws stand:
Judge to rule on Trump co-defendant's bond
A judge in Atlanta is hearing arguments on a request to revoke the bond of Harrison Floyd, one of former president Donald Trump's co-defendants in the Georgia case related to efforts to overturn the 2020 election.
Fulton county district attorney Fani Willis filed a motion last week telling superior court judge Scott McAfee that Floyd attempted to intimidate and contact likely witnesses and his co-defendants in violation of the terms of his release, the Associated Press reports.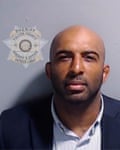 Floyd's attorneys wrote in a court filing that Willis' allegations are without merit and that the motion is a "retaliatory measure" against their client. Floyd "neither threatened or intimidated anyone and certainly did not communicate with a witness or co-defendant directly or indirectly," they wrote.
Willis was in court Tuesday to present the prosecution's case. She planned to call three witnesses, including Gabriel Sterling, a top election official in Georgia who strenuously defended the legitimacy of the state's 2020 vote count against Trump's false claims that the election was fraudulent.
The charges against Floyd relate to allegations of harassment toward Ruby Freeman, a Fulton county election worker who had been falsely accused of election fraud by Trump and his supporters. Floyd took part in a 4 January 2021 conversation in which Freeman was told she "needed protection" and was pressured to lie and say she had participated in election fraud, the indictment says.
Four of the original 19 defendants agreed plea deals that include a promise to testify in any trials in the case. Trump and the others have pleaded not guilty.
No trial date has been set, but Willis last week asked McAfee to set it for August next year, and warned the case could stretch into 2025.
Trump appeals Colorado 'insurrection' ruling
Donald Trump appealed a ruling in which a Colorado judge said he could not be disqualified from the presidential ballot under the 14th amendment to the US constitution, even though he engaged in insurrection by inciting the deadly January 6 attack.
The former president took issue with the finding that he participated in insurrection in connection with the attack on the Capitol staged by his supporters.
"The district court ruled that section three [of the 14th amendment] did not apply to the presidency, because that position is not an 'officer of the United States'," lawyers for Trump said in a court filing, responding to the ruling last week.
"The district court nonetheless applied section three to President Trump, finding that he 'engaged' in an 'insurrection'. Should these findings be vacated because the district court self-admittedly lacked jurisdiction to apply section three to President Trump?"
The group that filed the suit on behalf of six state petitioners, Citizens for Responsibility and Ethics in Washington (Crew), also lodged an appeal.
It argued: "Section three of the 14th amendment, passed after the civil war, excludes from federal or state office those who engaged in insurrection against the constitution after previously taking an oath to support it.
"Because the district court found that Trump engaged in insurrection after taking the presidential oath of office, it should have concluded that he is disqualified from office and ordered the secretary of state to exclude him from the Colorado presidential primary ballot."
Read Martin Pengelly's full story here: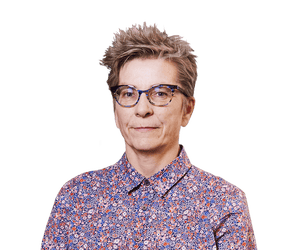 Joanna Walters
John Dean, former White House counsel to Richard Nixon, is scathing about Donald Trump's efforts to persuade an appeals court that he should not have a gag order in his federal election interference case because he is running for president.
Dean has weighed in on what appears to be a court leaning towards, narrowing the gag order that bans Trump from making inflammatory statements and social media posts attacking prosecutors, potential witnesses and court staff.
Dean posted on X/Twitter, saying: "Donald Trump has turned the rule of law in the United States upside down, and it is stunning that federal circuit court judges are buying into his remarkable con!" He said the hearing yesterday in Washington, DC, "bordered on pure farce."
Dean, who ultimately helped bring down Nixon despite being involved in the-then president's cover-up of corrupt and illegal presidential conduct known as Watergate, must be experiencing deja vu right now. He told the Guardian's David Smith in June 2022, of now-GOP frontrunner Trump: "I was never worried about the country and the government during Watergate but from the day Trump was nominated, I had a knot in my stomach…he just discovered late in his presidency the enormous powers he does have as president…he knows he can hurt his enemies and help his friends."
On X last night his new post on Trump concluded: "For heaven sakes, hold this man responsible for his aberrant and bullying behavior before he further destroys our country. Enough is enough is enough!"
Hostage deal between Israel, Hamas 'very close' – White House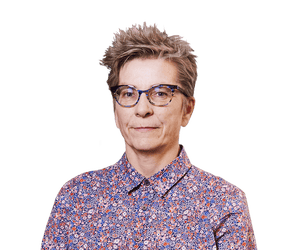 Joanna Walters
Joe Biden says negotiators are "very close" to securing the release of potentially dozens of hostages held by Hamas in Gaza.
The US president was speaking at the White House and said: "We're now very close, very close – we can bring some of these hostages home very soon, but don't want to get into the details of things."
He added: "Nothing is done until it's done and when we have more to say we will, but things are looking good at the moment."
We are closely covering all the news in the Israel-Gaza crisis via our global live blog and you can find the details here.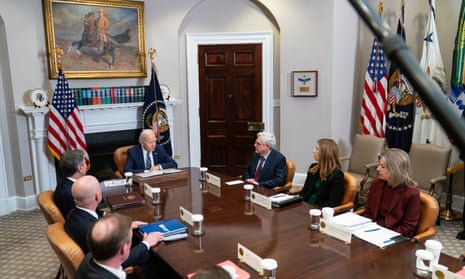 It's lunchtime on a quiet day so far in US politics, and time for a recap of what we've looked at so far:
Joe Biden has called on Congress to pass his $106bn supplementary budget request that he said includes funding to "step up" the fight against a flow of deadly fentanyl entering the US. The president, speaking at the White House before leaving for a Thanksgiving break in Massachusetts, said the fentanyl crisis was hurting families in every state and curbing it was "something every American needs to get behind".

Wisconsin's supreme court justices have been grilling attorneys for both the respondents and plaintiffs in a much-watched gerrymandering case that could end in a complete redraw of the state's legislative districts. Lawyers for Democratic governor Tony Evers say the current maps favoring Republicans breach a law that says they must be "contiguous"; a conservative justice says the plaintiffs want to upend 50 years of precedent.

A trio of prominent conservative lawyers said in a scathing New York Times oped that a second term in office for former president Donald Trump would imperil democracy. George Conway, J Michael Luttig and Barbara Comstock say Trump has surrounded himself with "grifters, frauds and con men willing to subvert the Constitution" and that "our country is in a constitutional emergency, if not a constitutional crisis".
Back in Wisconsin's supreme court, lawyers for Republicans defending gerrymandered state legislative maps are getting a grilling from the judges, as the Guardian's Alice Herman reports from the courtroom:
An attorney representing the Republican-controlled state legislature, the respondent in the redistricting case, argued that petitioners asking for legislative districts to be redrawn before the 2024 elections have not allotted sufficient time to redraw the maps, and disputed their definition of "contiguous districts".
Taylor Meehan argued that the existence of districts with literal water-bound islands invalidate the plaintiffs' argument that the legislative maps should avoid non-contiguous districts and said that the court should adopt a looser definition of "contiguous".
"You're telling us to use one definition because it will help your argument and I'm pretty sure the rule is we're supposed to look at the definition to figure out what the law is," said justice Jill Karofsky, who, along with bench colleague Ann Bradley, repeatedly questioned Dallet's definition of "contiguity."
Meehan questioned the right of plaintiffs in non-contiguous districts across the state to bring forward the case, comparing their complaint to an Illinois voter challenging Wisconsin maps.
"I don't see how a petitioner who lives in Beloit" can ask for a statewide redraw, Meehan said.
Biden calls on Congress to 'step up' fentanyl fight
Joe Biden has called on Congress to join him to "step up the fight" against the flow of fentanyl coming into the US.
The president was speaking at the White House in his final official engagement before he and first lady Jill Biden head to Nantucket later for their Thanksgiving break.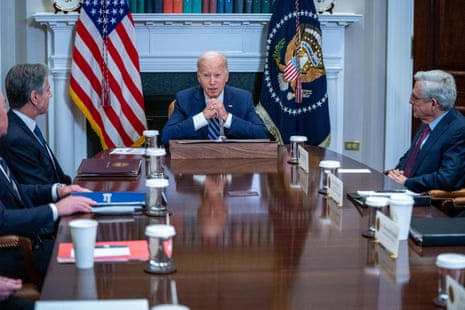 Before a cabinet meeting that's now gone into private session, Biden said he was heartbroken for families who will have an empty seat at their Thanksgiving table because they had lost a loved one to the drug:
Fentanyl is likely the number one killer of Americans at this point. It's an issue that's hurting families in every state across the nation. Curbing this crisis is something that every American needs to get behind, Democrat and Republican.

How can we accelerate our efforts and make sure that we're delivering real results? Congress also has to step up in this fight. It can start by passing my supplemental budget request for national security, including significant resources to help stop the flow of fentanyl in our country, as well as funds to strengthen and support services for people struggling with fentanyl impacts.

I also urge Congress to permanently make fentanyl and related substances Schedule One drugs. Too many people are dying.
Biden prefaced his remarks with an update on progress towards a deal to free hostages held in Gaza by Hamas since the 7 October attacks on Israel. He said an agreement was "very close".
You can follow that and other developments in the Israel-Hamas war in our dedicated blog here:
Here's more from Alice Herman covering the gerrymandering case in Wisconsin's supreme court:
Anthony Russomanno, an attorney representing Wisconsin's Democratic governor Tony Evers, argued that the state's legislative maps, and the process for drawing them, violates the separation of powers – privileging the legislature, which is responsible for drafting the maps, over the executive branch.
Tamara Packard, representing five Democratic lawmakers, also argued the mapmaking process violated the separation of powers.
Conservative justices hammered Russomanno and Packard with questions of propriety regarding the timing of the litigation, and justice Rebecca Bradley accused attorneys of attempting to illegally overhaul the makeup of the state legislature.
"You are ultimately asking that this court unseat every assemblyman that was elected last year," said Bradley, comparing the plaintiffs' request to implement a new map before the 2024 elections, and hold early special elections for representatives not up for election in 2024, to Donald Trump's attempt to overturn the 2020 election.
Packard said her clients, Democratic lawmakers who would face special elections if the court were to side with the plaintiffs, were "ready, willing, and able" to face re-election and that other legislators should be willing as well
A conservative judge on Wisconsin's supreme court questioned the timing of a lawsuit challenging the state's legislative districts as oral arguments got under way Tuesday in a much-watched case over gerrymandering.
The Guardian's Alice Herman, who is in the courtroom, reports that Mark Gaber, an attorney representing Campaign Legal Center, laid out one of the plaintiff's central arguments: that non-contiguous districts in the state are unconstitutional.
Almost immediately, conservative judge Rebecca Bradley interrupted Gaber to question the plaintiffs' timing in bringing the case forward.
"Where were your clients two years ago?" she asked, pointing to the fact that the ideological sway of the court flipped when Janet Protasiewicz, a liberal judge, was elected this year. "You're seeking to overturn 50 years of precedent."
Gaber disputedthe case was brought in a partisan manner, arguing that the state constitution requires contiguous districts – a non-partisan requirement. The argument that 75 of the state's 132 districts are non-contiguous is at the heart of the plaintiffs' case against the gerrymandered maps.
House speaker Mike Johnson took a trip to visit Donald Trump at his Mar-a-Lago resort in Florida on Monday night, CNN is reporting, a pilgrimage similar to the one that exposed predecessor Kevin McCarthy to criticism.
"Maga Mike", as some have branded the Louisiana Republican for his unswerving loyalty to the former president, has endorsed Trump's campaign for the party's 2024 presidential nomination, so a "kiss the ring" visit to Mar-a-Lago was not entirely unexpected.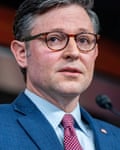 It is not known what the pair discussed, CNN says. But the trip has echoes of former speaker and then minority leader McCarthy's "groveling" visit to see Trump in January 2021, days after condemning him for sparking the deadly 6 January Capitol riot.
With his endorsement of Trump, Johnson, who voted against certifying the 2020 election results, has gone even further than McCarthy did in backing the twice-impeached ex-president, who is currently facing dozens of charges in multiple cases against him around the country.
"I'm all in for President Trump," Johnson told CNBC, adding he was "one of the closest allies that President Trump had in Congress".
The Guardian's Sam Levine and Alice Herman are following oral arguments this morning at the Wisconsin supreme court, where the seven justices will adjudicate one of the most closely-watched gerrymandering cases this year.
The case is a challenge to the maps for Wisconsin's state legislature, which are so heavily distorted in favor of Republicans that it is all but impossible for Democrats to win a majority.
Republicans took over the legislature in 2010, and drew maps that have cemented their majority ever since. Democrats won statewide elections in the state in 2018, 2020, and 2022, but Republicans have never had fewer than 60 seats in the state assembly. State senate districts must be comprised of three assembly districts in Wisconsin, so any gerrymandering in the assembly carries over to the senate.
The challengers want the court to strike down the maps and order new elections in all 132 of the state's legislative districts in 2024.
They note that 75 of Wisconsin's 132 legislative districts are non-contiguous, a clear violation of a state constitutional requirement that says all districts need to be contiguous. The districts, Republicans argue, are contiguous because even with "islands" they still keep municipalities whole.
The challengers also argue that the process by which the supreme court picked the current maps violated the separation of powers because the panel chose one the Democratic governor had vetoed.
Oral arguments have just begun. We'll bring you updates as we get them.
Read more here:
"Grifters, frauds and con men willing to subvert the Constitution and long-established constitutional principles for the whims of political expediency."
That's how a group of prominent conservative lawyers sees the legal team Donald Trump has surrounded himself with as the former president plots a return to the White House next year.
Warning of an unprecedented threat to democracy from a Trump second term, and the worsening of a "legal emergency" set in motion by his unprecedented efforts to overturn his 2020 defeat by Joe Biden, they have founded a group called the Society for the Rule of Law Institute, which they say is needed "to bring sanity back to conservative lawyering and jurisprudence".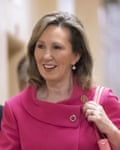 A trio of lawyers form the new group's board. They are George Conway, ex-husband to Trump's former senior adviser Kellyanne Conway; J Michael Luttig, formerly a US appeals court judge; and Republican former Virginia congresswoman Barbara Comstock.
They set out their case Tuesday in a hard-hitting editorial in the New York Times:
American democracy, the Constitution and the rule of law are the righteous causes of our times, and the nation's legal profession is obligated to support them. But with the acquiescence of the larger conservative legal movement, these pillars of our system of governance are increasingly in peril. The dangers will only grow should Donald Trump be returned to the White House next November.

Recent reporting about plans for a second Trump presidency are frightening. He would stock his administration with partisan loyalists committed to fast-tracking his agenda and sidestepping – if not circumventing altogether – existing laws and long-established legal norms.
They cite Trump's already publicized plans to appoint public officials investigate and exact retribution against his political opponents; remove federal public servants at will; and invoke special powers to seize control of First Amendment-protected activities, criminal justice, elections, immigration and more.
The "guest essay" continues with praise for the few lawyers in the first Trump administration who stood up to his excesses, and a warning that legal checks and balances would be largely absent from his second:
Alarming is the growing crowd of grifters, frauds and con men willing to subvert the Constitution and long-established constitutional principles for the whims of political expediency.

The actions of these conservative Republican lawyers are increasingly becoming the new normal. Any legal movement that could foment such a constitutional abdication and attract a sufficient number of lawyers willing to advocate its unlawful causes is ripe for a major reckoning.

Our country is in a constitutional emergency, if not a constitutional crisis.
Conservative lawyers: another Trump presidency would be perilous for democracy
Good morning US politics blog readers! A group of prominent conservative lawyers is warning that democracy would be placed in unprecedented peril if Donald Trump returns to the White House next year, and that legal checks and balances on his conduct would be largely absent if he wins a second term.
The dire predictions come in a hard-hitting opinion piece Tuesday in the New York Times.
Trump, the former president and runaway leader for the Republican 2024 nomination, has surrounded himself with "growing crowd of grifters, frauds and con men willing to subvert the Constitution and long-established constitutional principles for the whims of political expediency," they say, creating an unprecedented "legal emergency" worsened by their support of his unsuccessful efforts to overturn his 2020 election defeat.
The authors, who include George Conway, ex-husband to Trump's former senior adviser Kellyanne Conway, have formed an attorneys' group called the Society for the Rule of Law Institute, which they say is needed "to bring sanity back to conservative lawyering and jurisprudence".
We'll have a closer look at that coming up.
Here's what else we're watching today on a quiet pre-Thanksgiving Tuesday in Washington DC:
Joe Biden will host a White House meeting over efforts to stop the flow of fentanyl into the US this morning, before he and first lady Jill Biden head for their Thanksgiving break in Nantucket.

There's no action in Congress, but an election in Utah's 2nd congressional district Tuesday will restore the House to its full complement of 435 members since Democrat David Cicilline of Rhode Island resigned in May. Republican Celeste Maloy is expected to handily beat Democratic state senator Kathleen Riebe.

Wisconsin's supreme court will hear oral argument in a high-stakes lawsuit seeking to strike down the maps for the state's legislature. The result could bring an end to what may be the most gerrymandered districts in the US. Read more about that here.