Key events
Djokovic 5-7 7-6(5) 5-6 Sinner* Sinner nets a forehand, but a telling backhand allows a clean-up drive-volley larruped to the opposite corner. But when he skips into a backhand, it goes long, by the looks of things because he mistimes it – even though he then complains to the umpire about some kind of distraction. He makes 30-all, though, when Djokovic surprisingly fails to get his return back into play, then flat-bats a glorious forehand winner down the line! It's almost like he calculates the physics of it as he draws back the racket! Djokovic then sends a return long, challenges, the crowd jeer, and he conducts them. He is human and he needs to be loved, just like everybody else does, and he'll shortly serve for a breaker. I don't want this to finish!
*Djokovic 5-7 7-6(5) 5-5 Sinner Another ace gives Djokovic 30-0 and another 40-0, but a forehand that drops long prevents a third consecutive love-hold. And when Sinner comes in, he's a chance to make things interesting, but first hits to the corner Djokovic picks to defend, then nets aq volley.
Djokovic 5-7 7-6(5) 4-5 Sinner* It won't just be me who half-expects Djokovic to break here; I daresay neither player would be surprised by that. And he's bang in the first rally, until Sinner reverses momentum with a canny forehand cross-court. Next, he unleashes a weapons-grade backhand on to the back of the baseline, a netted return makes 40-0 and a return that flies long means Djokovic must shortly serve to stay in the match.
*Djokovic 5-7 7-6(5) 4-4 Sinner Still behind in the set, Djokovic quickly makes 30-0 with two quick points – I keep saying it, but the way he's sneakily become one of the great servers in his mid-30s is ridiculous even by his standards. Another service-winner follows, seconds later the game is over, and we're back level in the decider.
Djokovic 5-7 7-6(5) 3-4 Sinner* Ach, Djokovic steps it up – of course he does – landing a forehand on to the line that makes 15-30. But Sinner is so calm it's a disgrace, and when a defensive lob lands near the chalk, he hooks a forehand on to the sideline then caresses another disguised drop for a winner! But another forehand is more hoik than hook, dropping wide, and Sinner faces break point – he's yet to lose his serve in the match – again refusing to play safe when under pressure, unloading the suitcase at as many groundstrokes as necessary to force the error. On deuce, though, he shows the first sign of fatigue, lazily humping long, and again his break is under threat; this time, he nets a backhand, and after two hours 40 minutes, Djokovic finally breaks! I am absolutely loving this match and so are the crowd.
*Djokovic 5-7 7-6(5) 2-4 Sinner Alcaraz aside, Sinner probably looks the best of the young pretenders – though Rune has incredible potential and, if he stays fit, I'm excited to see what Jack Draper manages. But back to now, Sinner makes 15-all thanks to a fine return, then Djokovic serves, comes in … and can't make a volley because the return is too good. And have a look! Another great return, not a winner but again at the feet and this time also on the line, raises two break points when Djokovic nets in response! The match could be here! And Sinner gets a look at a second serve, pursues it out wide, and curves a mahoosive winner cross-court! That was an incredible returning game, right when he needed it, and he's two holds away from a first win over the greatest! Hold me!
Djokovic 5-7 7-6(5) 2-3 Sinner* But look at Jannik Sinner! He's been brilliant with his overheads tonight and the one that makes 15-0 is a beauty because he's backpeddling and if he lets it drop it's landing near the baseline. Instead, though, he watches it on to the racket and punishes a winner, then quickly doubles his advantage. Djokovic, though, finds a magical forehand winner – he's hitting it so hard tonight – then, when chasing a forehand to the corner that looks for all the world a winner, Sinner skids into a fantasy backhand winner down the line that again has Djokovic ostentatiously applauding. Djokovic then sends the ball fractionally wide – Sinner called it good – and that's enough for the hold. The arena is absolutely jumping now.
*Djokovic 5-7 7-6(5) 2-2 Sinner Oh look at that. Djokovic hooks a forehand winner from centre that breaks the sideline and he's enjoying this contest now, all the more so when Sinner nets for 30-0. As long as he's serving well, he's in the match, but it's hard to shake the assumption, hardwired into our souls, that the champ will find a way. Shonuff he reaches 4o-15 – it's a while since Sinner made a dent when receiving – then directs another ace down the T.
Djokovic 5-7 7-6(5) 1-2 Sinner* Sinner smites a backhand winner for 30-0, makes 40 with an ace, and when Djokovic nets a return, that's the game. Both men are playing well here, and I've not a clue which of them is going to win.
*Djokovic 5-7 7-6(5) 1-1 Sinner Up 30-0, Djokovic slices an ace out wide, then when Sinner sends a return wide, he leaps into a forehand anyway, noising up the crowd even further. He's relishing this, but Sinner is refusing to wilt.
Djokovic 5-7 7-6(5) 0-1 Sinner* For the first time tonight, Sinner was a little loose in that breaker – perhaps due to nerves, perhaps due to fatigue, perhaps due to excitement, perhaps due to a mixture of all three. Or maybe it was just law of averages, a little down period after over two hours of precise tennis. Anyroad up, he now cant qualify tonight because for that he needed to win in two and down 15-30 faces a fight to hold serve. Which he does, slamming an ace out wide that Djokovic thinks was a let. He takes it up with the umpire who says she didn't hear a noise, noting that whenever Sinner catches tape out wide, nothing, but 5-4 tiebreak when he does, let. The crowd jeer, but watching a replay I think Djokovic was right.
Novak Djokovic takes the second set 7-6(5)
Djokovic 5-7 7-6(5) Sinner Djokovic thinks he's got it, dominating the next rally before hollering as he unleashes the 100mph forehand he thinks will level the match. But again, Sinner gets it back, the champ nets as the crowd laugh, and will now seek to close out on his own serve, a flick off the net ruining what was otherwise an ace. No matter: a serve out wide, a netted return, and that's one set all. I cannot wait for the decider, because this is every bit as good and intense as we'd hoped. Djokovic, meanwhile, cups an ear at the stands, relishing the needle.
Djokovic 5-7 6-6 Sinner (6-4) Which Sinner immediately retrieves, taking a forehand return early and directing it into Djokovic's tootsies; he can't dig it out. But he can clean up after a telling serve, then Sinner goes long, and must now defend two set points…
Djokovic 5-7 6-6 Sinner (4-3) Sinner nails a return on the stretch, but even so, you don't expect Djokovic to miss his volley, but he sends it looping wide; the crowd then go wild because they think the mini-brea's been consolidated with an ace, but the ball was wide and at the end of a long and thrilling rally, sent wide by a really clever forehand, Sinner can only net; 3-3. This is going to come down to the odd point, and is this it?! Djokovic is making every shot now, taking care to play percentages, and going for something more, Sinner nets, handing Djokovic, who's retrieved two mini-breaks, one of his own.
Djokovic 5-7 6-6 Sinner (2-2) Djokovic's record in breakers, especially this term, is insane – he managed to win every one he played at Roland-Garros – but lost one 7-1 to Rune the other night, though he did then win the decisive one. Anyway, a winner earns Sinner an immediate mini-break … quickly seized back, and a leaping backhand, thwacked with terrifying power, makes 2-2.
Djokovic 5-7 6-6 Sinner* Apparently Djokovic was ostentatiously laughing when the crowd cheered a Sinner backhand they didn't realise was out; or, in other words, he's not enjoying this. A service winner makes 15-0, but a forehand drops just over the sideline giving the champ a sniff. Up 15-30, though, Sinner repels everything thrown at him until Djokovic, trying everything to make something happen, errs. A big serve out wide then makes 40-30 and an ace towards the same side follows … but Djokovic challenges and it's well wide. Pressure, and Sinner floats an airy drop that's sent back deep, we reach deuce … and another big serve helps make advantage. Then, just as we're settling in for a long rally, Djokovic nets, and we've got that breaker! In almost all circumstances, I'd favour the bigger server, but it's different against the goat.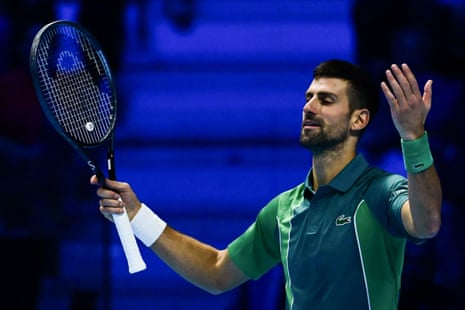 *Djokovic 5-7 6-5 Sinner Down 15-0, Sinner has a chance to pass, hitting a backhand down the line … and just wide. An ace out wide follows, a mistimed return flies long … no it doesn't, a challenge revealing that the ball's outermost fibres landed on the baseline, halting a run of 11 straight service points for Djokovic. But a shanked forehand means Sinner must now serve to stay in the set, and I'm already fantasising about how good a breaker might be.
Djokovic 5-7 5-5 Sinner* Sinner makes 15-0, then detonates an ace down the T and another out wide, before Djokovic goes long. His serve has looked impregnable in this set.
"Didn't there used to be a reserve who came in to replace anyone who pulled out injured?" wonders Richard Hirst. "Presumably that stopped."
It did not, I'm just old; Hubie Hurkacz has replaced Tsitsipas.
*Djokovic 5-7 5-4 Sinner It feels like a while since Djokovic held easily and he gets to 0-40 here which is, of course, the most dangerous score. But this time he cleans up easily, and agai, Sinner must serve at 4-5 to stay in a set.
Djokovic 5-7 4-4 Sinner* This by far the best I've seen Sinner play, and he spanks a forehand winner, inside-out, for 15-0 … then goes wide for 15-all. No matter, he's soon hitting a clean-up forehand for 40-15, Djokovic suggesting the serve was out and, as the crowd boo, he encourages them. He's so misunderstood! Sinner duly sees out the game, the crowd sing his name, and this is getting tense.
*Djokovic 5-7 4-3 Sinner Sinner's making waves almost every time Djokovic serves now, but a forehand that drops long is followed by an ace for 15-all. It's soon 15-30 though, the champ straying wide – he can't get any consistency into his game; Sinner won't let him get any consistency into his game. But a forehand winner backing up a fine second serve down the T takes him to within a point of a hold, and a service-winner out wide seals the deal.
Djokovic 5-7 3-3 Sinner* Sinner goes long to hand over 0-15, but Djokovic can't get his next return into court then, at the net and from well below it's level, Sinner finds a lovely sliced volley, executed with perfect disguise. An ace follows and he's still playing all the tennis here, but of course Djokovic opens shoulders to punish a forehand winner down the line; I reckon that's the hardest he's hit it so far this evening; 40-30. And ohhhhh, look at that, a backhand return on to the paint, just the second time he's hit a winner off a first serve, for all the difference it makes. Sinner's doing a really good job of hitting first deliveries to the forehand, and he does it again, twice, to secure a massive hold.
*Djokovic 5-7 3-2 Sinner Djokovic gets to 30-0 but then Sinner skids along the baseline to spirit a delicious backhand winner down the line; Djokovic responds with an ace but then nets a volley, and all the best gear is being played by the Italian. But he picks wrong receiving at 40-30, moving forehand as the ball whizzes backhand and that's the game closed out with its second ace.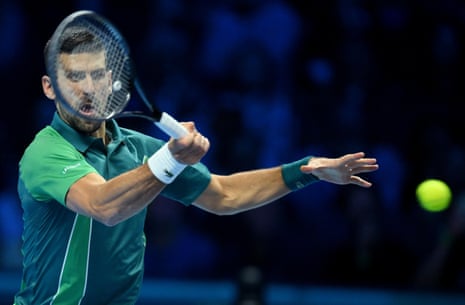 *Djokovic 5-7 2-2 Sinner I'm sure I'm missing loads, but this feels like the highest-quality contest I've seen in the men's game since the Wimbledon final and French semi. Sinner is playing close to his best, and to win from here, Djokovic might have to get close to his. And as I type, an overhead gives him 0-15, then Sinner narrowly misses with a forehand and here comes pressure. Which he wears beautifully, making a ridiculous angle from wide to send a forehand winner cross-court that breaks the sideline; Djokovic, who was near it but could get nowhere near it, can only applaud. And when he goes long on the forehand, Sinner has passed half the test and I bet an ace is coming … yup, there it is down the middle! But a backhand pulled wide means deuce … and another ace, then a monstered overhead! Jannik Sinner is forreal!
Djokovic 5-7 2-1 Sinner* And again! Sinner opens the game with another glorious winner, this time an inside-out backhand that lands on the sideline, but Djokovic quickly makes 30-15, then curls an ace on to the T … and slaps another down the middle before nipping off for a slash at change of ends. It can happen at his age, chortles the 44-year-old of the 36-year-old.
Djokovic 5-7 1-1 Sinner* Djokovic is finding it hard to hit with his usual precision, perhaps because sinner's easy power is so difficult to handle. But just as I type that, he hits a forehand wide, handing over 30-all … but Djokovic nets his next return, then two overheads see him home in the game. There's a calm about him out there, like he knows he's ready.
*Djokovic 5-7 1-0 Sinner Ooooh yeah! Sinner is hitting it like God here, and a forehand winner down the line puts him up 0-15; is Djokovic tottering? Er, what do you think, dear reader? He's soon at 30-15, then a lovely volley has him holding the pose like Jonny Bairstow after a cover-drive, and from there he closes out a crucial hold.
"The way Djokovic plays," explains Coach Calv, "he leaves low % shots for the opponent to go for. Sometimes they make them."
Trudat – though Sinner's serving, volleying and forehand have been great.
Jannik Sinner takes the first set 7-5!
Djokovic 5-7 Sinner* Djokovic nets a backhand, then a booming serve and forehand force a defensive lob … which drops long. 30-0, and this is superb stuff from Sinner, who really believes he can do this. All the more so when Djokovic nets a return, but as we know, it's not easy closing out from 40-0, the crowd roaring when they think he's landed an ace, but it's called wide and the champ looks distracted by the noise. AND WHEN DJOKOVIC NETS ANOTHER FOREHAND, THAT'S THE SET TO SINNER! He's played so well so far – he's not winning because he's hit a ludicrous purple patch, he's winning because he's mixed power, solidity and composure like it's just what he does. All in all, a great set (of tennis).
*Djokovic 5-6 Sinner Brilliant from Djokovic, racing to 40-0 … whereupon Sinner flows a backhand return down the line and on to the line for a clean winner. Then, when Djokovic doesn't do enough with a volley, he's caught at the net and quickly passed. AND HAVE A LOOK! From deep in court, Sinner ups the velocity with a pair of forehands, creams a winner down the line, and makes deuce! NOW THEN! Djokovic doubles, the partisan crowd cheer, he sarcastically applauds them, Sinner lands a gorgeous backhand return on to the baseline … then absolutely monsters another that's too good! From 40-0 up, Djokovic is broken, and didn't then youngster earn that! After change of ends, he'll serve for the first set!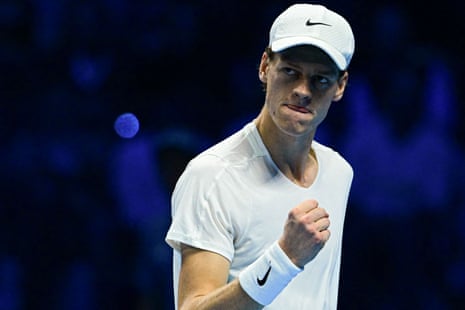 Djokovic 5-5 Sinner* A serve out wide, a return into the net; 15-0. But then a netted forehand and a netted volley coming in – he should've put that away – leaves Djokovic two points away from the set. But though he lands a forehand return on to the line, he then errs and that's all the invitation Sinner needs, two big first serves levelling the match again.
*Djokovic 5-4 Sinner As yet, I've been unable to find a full-length shot of Djokovic, who's wearing a bottle green top with line green stripes, bottle green shorts, white socks, lime green trainers, a line green sweatband and a white sweatband. Which is to say it's a total mess – unlike this service game, featuring an ace, a service-winner, and a hold to love. So the pressure ratchets up, Sinner about to serve to stay in the set.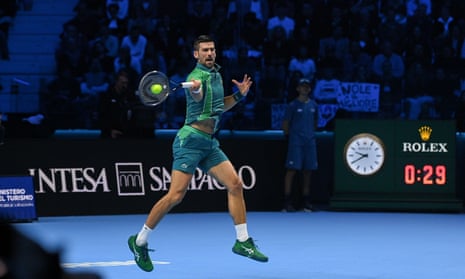 Djokovic 4-4 Sinner* Sinner looks a different cat these days – he's so confident in himself now and he races to 30-0 before a shanked forehand gives Djokovic a glimmer. An ace follows, then Djokovic goes wide with a forehand, and this has got 7-6 6-7 7-6 written all over it.
*Djokovic 4-3 Sinner Up 15-0, Djokovic swipes a backhand wide, then shovels another to similar area, and in a match of few chances, this counts as one. But Djokovic dictates the next rally, finishing it with a forehand down the line. However! Sinner finds a decent return then a decent backhand and Djokovic nets on the forehand, so here comes break point … quickly extinguished via service winner. From there, he closes out, and it would also be classic him to break next game after fending off Sinner here. "Some of the best ball-striking i've ever seen," says Henman of both men from courtside.
Djokovic 3-3 Sinner* With plenty of time to plan a shot at the net, Sinner snatches and slams a backhand long, but then backs away towards the backhand side to send a forehand to the opposite corner fior a clean winner. That's a great shot, but at 30-15, he goes long, and it would be so Djokovic to break here, having been unable to threaten previously; we wind up at deuce, and both men know what it means if Sinner can't hold the first time a little pressure is applied. Yeah. A long rally, both players hitting it beautifully, then Sinner chucks in a surprise drop that looks inspired … until Djokovic not only runs it down, but from the backhand side, somehow conjures an angle to get the ball across the face of the net for a winner. Yeah. So Sinner powers down an ace then an unreturnable serve, and this time when he lays a drop, he reads the cross-court riposte and is there to send another winner into the empty space. The crowd love it and rightly so: this is shaping up.
*Djokovic 3-2 Sinner A fair backhand return, a netted drop; Sinner is up 0-15, ahead when receiving for the first time. And when he swipes a backhand cross-court, he's a chance of a pass when sent a volley to the forehand corner. But Djokovic reads he's going line and this time does stick away a winner before sealing the game with an ace sliced out wide. So far, this is the highest-standard match I've seen so far this week.
Djokovic 2-2 Sinner* Sinner kicks off the game with an ace … and another ace. He's serving superbly, and as I type he clobbers a third down the middle! Another biggun into the T almost secures the game, but Djokovic sends it back on the stretch then lasts longer in a brutal rally before an inside-out forehand winner gives him 40-30. He hit that so hard and a game seemingly over is now in the balance … for as long as it takes Djokovic to go long on the backhand.
*Djokovic 2-1 Sinner Lovely from Djokovic, a serve into the corner, a volley into the opposite corner and, when Sinner chases it down to pass, another volley, this time on the stretch and for a winner. 30-0 soon follows, then an ace for 40 and a service winner for game. Three in the books and I'm not sure we've seen a competitive point yet.
Djokovic 1-1 Sinner* Sinner starts well too, the crowd cheering his every point as he races to 40-0 with two unreturned serves of his own … before sealing the game with an ace. If he keeps that up, he'll be competitive tonight – at the very least.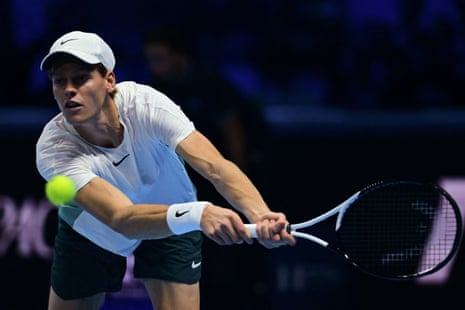 *Djokovic 1-0 Sinner (*denotes server) Sinner's improved a lot this year, attacking more and volleying better. But two service winners and a two netted returns give Djokovic a love-hold, and if the young pretender wanted to receive so he could settle, he hasn't because he couldn't get a ball back into play.
The players are ready and … play.
Sinner wins the toss and elects to receive. Does he want to put pressure on Djokovic, or is he nervous, wanting to settle into the match before he's under any pressure?
Here come our players!
Ahahahaha! It's now easier to list records Djokovic hasn't broken, rather than those he has.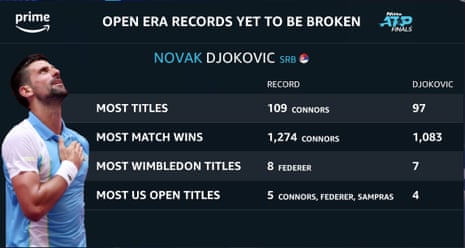 Greg Rusedski thinks Sinner will want long points to tire Djokovic out. Now, of course he knows slightly more about tennis than me, but i see that the other way around. The longer points go, the more they favour Djokovic, who I just don't think will gas over a best of three, indoors, at night, in November.
There are people in the crowd dressed up as carrots; I think this is because Sinner is ginger, but I could be wrong.
"I think Sinner is good but he's one dimensional," messages our resident coach, Calvin Betton. "Similar to Rune v Djokovic, Sinner can hit through him, but he hits less flat and with more shape than Rune, which Djok prefers."
It's been a really fun tournament so far. Daniil Medvedev looked great last evening, Rune is in form too, and Djokovic is just so good at doing whatever the situation demands. Oh, and Alexander Zverev looked great in beating Carlos Alcaraz yesterday; he meets Medvedev tomorrow night, with Alcaraz facing Rublev in the afternoon.
I'm interested to see how Sinner handles a partisan home crowd. Northern Italians – those close to the Austrian border – are stereotyped as calm dudes, the opposite of how the rest of Italy sees itself, and Sinner lives up to that. So, does he seek to shut out the crowd, or can he use its energy to fire his performance?
Obviously we don't yet know if Tsitsipas will return for his final match, but given it's against Djokovic, and given he lost his first one to Sinner, we can probably assume he's out. And if the three other group-members all have wins over him, what'll matter is what happens when they play each other. If Djokovic wins tonight, he's almost definitely through, in which case Rune v Sinner will decide who comes with him.
Earlier today:
I'm looking forward to this one; who isn't looking forward to this one; how not to look forward to this one?
It's a weird thing really, because despite our anticipation, we know what's likely to happen: Novak Djokovic finds a way to win. But that's how it is with dominant champions: we tune in to marvel at their magnificence, but also, we tune in hoping to see them take a doing.
And we can make a case for Jannik Sinner to make that happen. He's playing in front of his home crowd, he's in form, and he's one of very few who can hit through Djokovic.
Sounds simple, right? Except, of course, we know in advance that it isn't. Djokovic has the skills and smarts to keep Sinner moving so he can't unleash, and makes so many balls that eventually his opponent makes a mistake. But an upset remains plausible, and even if it doesn't work out that way, there's every chance of another fun, intense and close match.
Play: 9pm local, 8pm GMT