Key events
37th over: India 270-1 (Kohli 89, Shreyas 51) Shreyas takes a single off Santner to reach another punishing fifty, his fourth in a row, from 35 balls.
36th over: India 265-1 (Kohli 86, Shreyas 49) India make up for that maiden by taking 17 runs from Boult's next over. He was manhandled for four by Kohli, then six and four by Shreyas, and his figures now read 7-0-59-0.
As dispiriting as it is for those who craved a contest, it's also quite awesome to watch. Only Australia in 2007 have dominated a World Cup like this.
35th over: India 248-1 (Kohli 80, Shreyas 38) Mitchell Santner bowls an actual, real-life maiden to Shreyas Iyer.
Kohli sets World Cup record!
34th over: India 248-1 (Kohli 80, Shreyas 38) Virat Kohli turns Phillips for a single. It's his 674th run of the tournament, which breaks Sachin Tendulkar's World Cup record. India can do whatever they want. Shreyas Iyer pumps Phillips matter-of-factly over long-on for six, his third in the innings and his 19th of the tournament.
33rd over: India 238-1 (Kohli 78, Shreyas 30) Shreyas picks Southee's slower ball and blooters it into the crowd at cow corner. Conway does extremely well to save two runs on the cover bondary when Kohli drives handsomely, but India score at least one run off every ball. They have every chance of making 400 here.
The biggest margin of victory in a World Cup semi-final, by a team batting first, is a modest 95 runs. That was at Sydney in 2015, when Rohit Sharma, Virat Kohli, Ravindra Jadeja and Mohammed Shami were on the wrong end of Australia's excellence. The record may not be long for this world.
32nd over: India 226-1 (Kohli 74, Shreyas 22) Look, there's a repeat of Magnum P.I. on ITV 4 in a minute, and it'll probably have more jeopardy than this game. Rick agrees to help his boyhood friend Waldo Norris, who claims that he's trying to recover a priceless stolen china figurine – however, Rick little suspects that the entire story is an elaborate insurance fraud.
Drinks Some heartwarming news from The Hundred: Andrew Flintoff has been appointed as head coach of the Northern Superchargers men's team.
31st over: India 221-1 (Kohli 70, Shreyas 21) Kohli late cuts a weary Boult for four more. He was 35 from 42 balls when Gill retired hurt; he's scored 35 from 32 deliveries since then. Time for drinks.
"It's such a shame that the BCCI is messing around the edges of the rule book this WC," writes Mike Jakeman. "I'm thinking of delaying the Pakistan team's visas, this pitch imbroglio, not to mention only agreeing a tournament format that guarantees India the highest number of matches possible.
"This annoying because this team is genuinely excellent, possibly the best ODI side I've ever seen. They don't need this kind of dubious protection, which only draws attention to the BCCI's excessive influence over the whole sport."
I agree with pretty much all of that, especially the second paragraph. I'd be loath to blame India for the format, even if the change was catalysed by their shock elimination in 2007.
30th over: India 214-1 (Kohli 65, Shreyas 19) My word. Kohli, who has gone up a gear since Gill retired hurt, charges the new bowler Southee and waves him wristily over midwicket for six. That might be the shot of the day, and there have been plenty of contenders.
The usual singles bring up the fifty partnership from 44 balls. This is a rout.
29th over: India 203-1 (Kohli 57, Shreyas 16) A thrilling statement of intent from Kohli, who charges the first ball of Trent Boult's second spell and spanks it over mid-off for four. The other advantage of taking it deep is that it's a ferociously hot afternoon, so New Zealand's seamers could wilt at the death.
This game is done, isn't it.
28th over: India 197-1 (Kohli 52, Shreyas 15) Ferguson has bowled much better in this second spell. Trouble is he can't get much of a look at Shreyas Iyer, who can be susceptible to the short ball. Kohli has taken 14 of the 18 deliveries bowled by Ferguson since his return to the attack, a smart and selfless bit of batting.
"I guess if NZ do get a semifinal shellacking here it won't live too long or painfully in the old memory bank," says Niall Mullen. "Unlike, say, the non-striker dropping his bat and forgetting how to move his legs for the winning run against your fierce rivals resulting in you getting knocked out on a technicality."
A vile technicality, please.
27th over: India 194-1 (Kohli 50, Shreyas 14) Blimey. After a gentle start to his innings, Shreyas Iyer suddenly drives Ravindra down the ground for six. "Wow," says Ian Smith on commentary. "Not much else to add really."
He had a lot more to add when Shreyas, beaten in the flight, sliced the next ball towards short third man. The ball teased the fielder Southee before bouncing just wide of him and away for four.
An eventful over concludes with Kohli cracking a single down the ground to reach a watertight 59-ball half-century – his first in a World Cup knockout game. He equalled one of Sachin Tendulkar's records by making his 49th ODI hundred earlier in the tournament. He needs 30 more runs to break another – the most runs scored at a single World Cup. Tendulkar made 673 in 2003.
26th over: India 181-1 (Kohli 48, Shreyas 4) Kohli turns Ferguson to deep square leg and steals a second run. It's brilliant running, especially for a 35-year-old in this heat. And it also means Ferguson can't get another crack at Shreyas Iyer. Kohli takes all six deliveries and keeps the strike with a single off the last ball.
25th over: India 178-1 (Kohli 45, Shreyas 4) Ravindra replaces Santner. There has been a bit of turn for New Zealand, nothing alarming though. Williamson curses when a throw is fumbled by Latham, thus allowing Kohli an extra run. This is probably Williamson's last chance to win a World Cup, and it's slipping away.
24th over: India 173-1 (Kohli 41, Shreyas 3) Lockie Ferguson replaces Phillips (3-0-18-0), an attacking move from Kane Williamson. New Zealand's only hope is to think in wickets – and they almost get one when Shreyas pulls a short ball not far short of long leg. He didn't look comfortable there.
Kohli gloves a pull for four later in the over and then steals the usual single to mid-off. He has 41 from 46 balls and needs another 59 to become the first man to score 50 ODI centuries.
"Already thinking about the mouthwatering semi-final tomorrow," writes Krishnamoorthy V. "While the head and all cricketing logic say Australia, the heart, that blasted part that never gives up on HOPE, says South Africa. There will be poetic justice and corrections to an unfair historical record of such a talented team. For sheer entertainment, though, it will be great fun if the match goes to a Super Over after a last-ball run out resulting in a tie."
My concern is that it could be decided by the toss, more because of the psychology of both sides than the pitch, but that's probably an oversimplification. It could be a cracker.
23th over: India 165-1 (Kohli 35, Shreyas 1) "We all want this to be close Rob," weeps Guy Hornsby, "but bar the Black Caps getting a rattle of wickets pretty quickly or Conway and Ravindra going bananas, this feels like Everest already for this incredibly likeable team. There's no shame in getting beaten by this side at home, it's not like anyone's got that close, even them. India look utterly unstoppable right now, with superstars in every position. I really rate Santner but they can just run singles off him and attack Phillips and Ravindra. Anything over 330 will be a mountain. Who can wrestle this game back for NZ? Do you get Boult back on for a couple?"
That's what Eoin Morgan would do. With the change of batsman, I'd also be tempted to bring on Ferguson to test Shreyas Iyer with the short ball.
Shubman Gill retires hurt!
Maybe it's something more serious than cramp: Gill is limping from the field, though he could return later in the innings. He played beautifully to make 79 from 65 balls.
22.4 overs: India 164-1 (Gill 79, Kohli 35) This is a great spot from Tim de Lisle, who will be here for the second innings. Not only has Kohli faced over 700 balls in the tournament now, he is a long way clear of everyone else.
A short ball from Santner is whip-pulled to cow corner for four by Kohli, who has reached 35 from 42 balls without breaking sweat. Gill, on 79 from 65, is struggling with cramp so there's a break in play while he receives treatment.
22nd over: India 157-1 (Gill 78, Kohli 28) The dullish middle overs continue with a few singles down the ground off Phillips. Eoin Morgan, commentating on Sky, says if he was captain he would "go to the top of the page" and bring on the bowler most likely to take a wicket. Please let him write a book on captaincy one day.
Rohit Sharma sent a message onto the field between overs. "With this scoreline," says Ian Smith on Sky, "what can he be unhappy with?!"
21st over: India 153-1 (Gill 76, Kohli 27) This is a nightmare for New Zealand. Not only are they well behind the game, but their potential trump card Santner has only four overs remaining. India are milking him at their leisure: 6-0-36-0.
Meanwhile, here's the ICC's response to speculation about why the semi-final pitch was changed. Glad that's all sorted.
20th over: India 150-1 (Gill 74, Kohli 26) Shubman Gill muscles Phillips over long-off for his third six. This has been an impressively two-paced innings: 21 from 21 balls while he was in Rohit's shadow, then 53 from 36 when he became the chief aggressor.
19th over: India 142-1 (Gill 67, Kohli 25) Kohli doesn't have the greatest record against left-arm spin in the last couple of the years, but the match situation allows him to eschew risk. Four singles from Santner's fifth over; India have played him very well.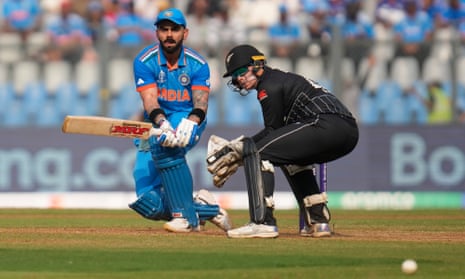 18th over: India 138-1 (Gill 65, Kohli 23) More spin, this time from the golden arm of Glenn Phillips. A quiet over, six from it. New Zealand have to find a way to break this partnership, and the next one, and the next one.
You never see a twist coming – that's the whole point – but right now it's hard to see how New Zealand can win this game.
"Sorry for sounding fatalistic, but this game appears over," says Krishnamoorthy V. "Shall we spend some time discussing the 1999 repeat of South Africa vs Australia?"
You can, but I've got some low-risk accumulation to describe. (I cannot wait for tomorrow though.)
17th over: India 132-1 (Gill 63, Kohli 19) Gill charges Santner and blasts six back over his head, a shot played with a flamingo flourish at the end.
A perfectly placed late cut for four off the next ball takes him to 63 from 49 balls. With a respectful nod to his run-a-ball 92 against Sri Lanka, this is Gill's best knock of the tournament.
16th over: India 121-1 (Gill 53, Kohli 18) Three singles from Ravindra's over, the last of which brings us a smooth partnership from 46 balls. India are cruising.
15th over: India 116-1 (Gill 52, Kohli 16) Santner changes ends and is milked respectfully for four singles. That's drinks.
"India wouldn't mind the pitch slowing down now," says Arul Kanhere. "They have enough momentum to build to 350, every batter just helping Kohli to bat until the 30th over after which he's nearly invincible. Like Ricky Ponting said in the match vs SA – if India get past 300, the match is done."
The only way New Zealand can get back in it is to take wickets at regular intervals. That's where Kohli has been so good in this tournament; he has faced nearly 700 deliveries, which is the primary reason the tail has rarely been exposed.
14th over: India 114-1 (Gill 50, Kohli 14) The left-arm spinner Rachin Ravindra replaces Santner, who may change ends. Kane Williamson is trying anything and everything to establish some control. Kohli crunches a couple to wide long on, which takes him past 600 runs in the tournament, and then Gill waves a single to reach a beautiful half-century from 41 balls.
Kohli clatters a boundary through extra cover to give India their fifth double-figure over of the innings, already. This looks pretty ominous for New Zealand. And South Africa and Australia.
"My brother-in-law is in New Zealand at the moment, doubtless watching the game somehow, somewhere," writes Kim Thonger. "I am concerned for his welfare should the Kiwis reach the final and be faced with Australia. Could it be made clear now that our Steve is the mild-mannered retired finance director from just south of Oxford, on holiday in NZ, and not the Steve Smith from Kogarah, New South Wales."
Based on the first 14 overs, I suspect he'll be okay.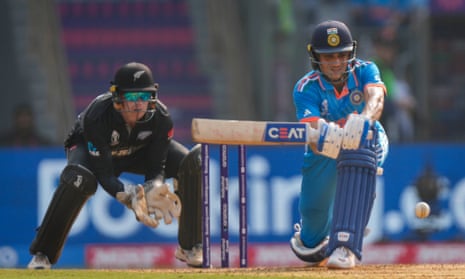 13th over: India 104-1 (Gill 49, Kohli 5) Lockie Ferguson changes ends to replace Southee, but there's no change of approach from Gill. He cuffs the first ball wide of midwicket for four and pulls the second mightily for six to bring up the Indian hundred. It's the most brilliant batting; I don't know what else to tell you. India are already well ahead of the game.
12th over: India 92-1 (Gill 38, Kohli 4) Mitchell Santner replaces Ferguson. He's a key man, especially as India have so many right-handers. Gill sweeps firmly for two, with Devon Conway doing brilliantly to save the boundary, then cuts a single to deep cover. He has 38 from 36 balls, Kohli 4 from 7.
Rohit's spectacular start means Kohli can take his time and try to replicate that masterpiece against South Africa a fortnight ago.
11th over: India 89-1 (Gill 35, Kohli 4) Gill hits his sixth boundary, flicking Southee elegantly through midwicket. It feels like he has had a quiet tournament, yet he's still averaging 44 with a strike rate of 106.
10th over: India 84-1 (Gill 30, Kohli 4) A poor over from Lockie Ferguson. Gill pulls a slower short ball for four, then a quicker short ball for four more. Gill felt like an also-ran when Rohit was batting yet he has still raced to 30 from 26 balls.
"In an earlier OBO, we were talking about Aravinda's de Silva's counter-attack in the 1996 semi-final," writes Anand. "Maybe a bit premature to say, but what Rohit is doing comes close. I now get how it must have felt to be a Sri Lanka fan on that day!"
That's a nice comparison. Aravinda's was arguably even better because his team lost two wickets in the first over, but there was a nerveless brilliance about both innings. It's also fascinating that the man who normalised ODI double hundreds may not win a World Cup for his country with a series of cameos.
9th over: India 75-1 (Gill 21, Kohli 4) New Zealand have Santner at short mid-off for Kohli, a clever fielding position on a pitch like that. Another wicket would make things interesting.
Kohli is not out! It might have been close – but there was a thin inside-edge onto the pad so New Zealand lose a review. The ball also ran away for four.
India review for LBW against Kohli! I think it's too high, but it's close.
Rohit launched a slower ball from Southee back over his head. It went miles in the air and was swirling horribly. Williamson backpedalled desperately, all the while knowing the consequences if he dropped it, and held on despite falling over as he took the catch. That is a fantastic piece of fielding. Rohit goes for a memorable, tone-setting 47 from 29 balls.
WICKET! India 71-1 (Rohit c Williamson b Southee 47)
Kane Williamson takes an outstanding catch to end Rohit Sharma's cameo!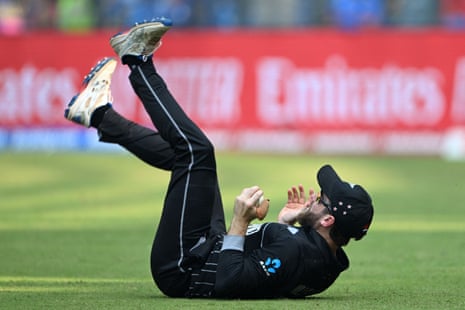 8th over: India 70-0 (Rohit 47, Gill 20) Santner is replaced by Lockie Ferguson after one expensive over. Shubman Gill reminds us there are two batters out there with a thrilling drive through the covers for four. A pair of twos and a single take India to 70 after just eight overs. At this stage in 2019 they were 13/3.
7th over: India 61-0 (Rohit 47, Gill 11) A better over from Boult, who has already started to bowl a few cutters. Batting is likely to become trickier as the innings progresses, which makes this start even more valuable.
"Forget the pitch-switch," says Krishnamoorthy V. "We need an MRI scan on Rohit to see if he is flesh and bones or cogs and wheels inside."
It turns out an old don can learn new tricks. In 2019, when he batted brilliantly and made five centuries, Rohit's strike rate was a very good 98. In this tournament it's 125, and he has still scored 550 runs. It's been one statement innings after another, but this is the best because the stakes are so much higher.
A great sports psychologist could work with the other Indian batters for years without having as profound an impact as this knock. Given the pressure he must – or at least should – be under as the Indian captain at a home World Cup, his skill, selflessness, audacity and certainty are pretty awesome.
6th over: India 58-0 (Rohit 45, Gill 11) The left-arm spinner Mitchell Santner replaces Tim Southee, who was heavily punished in a spell of 2-0-21-0.
Rohit Sharma continues his wonderful assault, sweeping the second ball for four – it was in the air by wide of short fine leg – and hoicking another huge six over square leg when Santner drops short. He has 45 from 22 balls and may have won the semi-final for India, already.
Since you asked, after six overs of the 2019 semi-final, India were 10/3.
5th over: India 47-0 (Rohit 34, Gill 11) Rohit hooks Boult imperiously for six more. Shubman Gill moves into double figures with a cut shot that is only partially stopped by Phillips. He has 11 from 12 balls, Rohit 34 from 18.
"I was so excited for the game. And then this pitch controversy erupts," says Arul Kanhere. "If you're good and can handle pressure you'll win. That's that."
As Rohit is demonstrating right now.
4th over: India 38-0 (Rohit 27, Gill 9) Rohit pulls Southee for four with frightening hand speed. Southee overcompensates on line and length next ball, so Rohit flicks him up asnd over square leg for six more. We grew up associating a great captain's innings with over-my-dead-body defiance. The world is a different place now and Rohit is playing a very modern captain's innings: 27 from 15 balls. It's the clearest possible statement to his team that this is just another game.
Don't be surprised if we see Mitchell Santner pretty soon. It would be a risk – Australia marmalised him in the first 10 overs – but then any decision is a risk with Rohit in this mood. New Zealand have to take early wickets.
3rd over: India 25-0 (Rohit 16, Gill 8) This is thrilling, assertive batting from Rohit Sharma. He charges Boult, who had just moved round the wicket, and lashes a huge six over extra cover. India have batted too cautiously in recent semi-finals; Rohit is sending the clearest possible message that there is nothing to fear.
On commentary, Nasser Hussain points out that this is probably the time to cash in while the balls are hard. There was a little bit of swing for Boult in the first over but nothing in the second. He pulls the over back quite well after being hit for six, with his last delivery hitting Rohit in the breadbasket.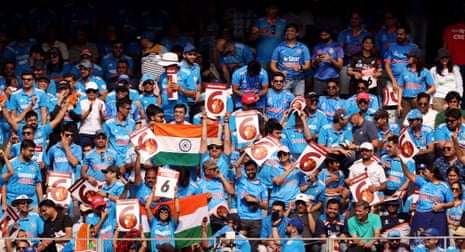 2nd over: India 18-0 (Rohit 10, Gill 8) Four years ago it was Boult and Matt Henry who demolished India's top order. Henry has gone home so Tim Southee will take the other new ball today.
He gets some swing as well, but his third ball is too straight and Shubman Gill flicks it crisply through square leg for four. The next ball is inside-edged past leg stump for four more, the first moment of fortune for India in the match. They're off to another flyer.
1st over: India 10-0 (Rohit 10, Gill 0) Rohit Sharma sets the tone emphatically, as he has all tournament, by taking 10 from Trent Boult's first over. He clipped the first ball for two, flicked stylishly over midwicket for four and then belted an off drive for another.
The first boundary was risky, and only just cleared the fielder at short midwicket, but Rohit has been taking calculated risks throughout the tournament. Even with the new ball swinging, Rohit went after Boult. Brilliant captaincy.
Trent Boult will bowl the first over. He's had a mixed World Cup, with 13 wickets at 32. If ever New Zealand needed a classic Boult new-ball spell, it's now.
Here come the openers, Rohit Sharma and Shubman Gill. It's time for India v New Zealand: the sequel.
"Morning Rob," says Krishnamoorthy V. "In response to Liam (8.07am): India deifies its sports idols and other celebrities. Be it politics, sports, cinema… India has only two settings. You are god and you are trash."
In the year 2023, that's definitely not unique to India.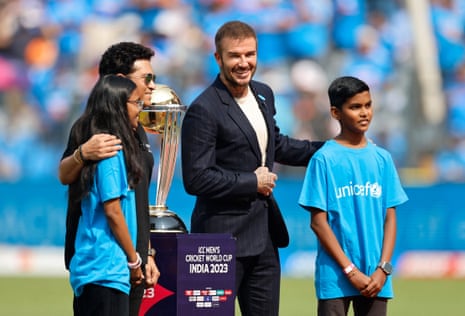 The pundits on Sky Sports – Dinesh Karthik, Eoin Morgan and Nasser Hussain – think the change of pitch may increase New Zealand's chances, because batting could be more awkward against the spinners this afternoon. We'll soon find out.
I'm off to grab a coffee, after which the pitching will stop and the contest will begin. In the meantime, read this cracking piece from Ali Martin on one of the players of the tournament.
"Well, change of pitch controversy they say," writes Sreekanth Nandakumar. "I'm really confused on what advantage the Indians get. Was it a fast pitch, oh yeah? Bumrah, Shami and Siraj will destroy you. Is it a spinners' paradise? Kuldeep and Jadeja will get you. It sounds like someone is trying to create a mountain out of a molehill and doing a bad job at that."
No, that's not right. Lawrence Booth is a class act, the editor of Wisden and as scrupulous as any journalist I have ever met. The story may amount to nothing, but Booth is not some clickbait clown. If, and it's a big if, there has been sharp practice and the ICC are too terrified to do anything about it, then what's the point of a World Cup? We do agree on one thing though: India are so good that there's no need for them to manipulate conditions.
"As a Black Caps supporter, I'm caught in two minds about today's match," says Liam Wallace. "On the one hand it would be fantastic for this side to eke out another victory against the odds. Also, it would be just a little bit funny if India were knocked out after being clearly the superior team at this World Cup.
"But I find the Indian side to be quite likeable and it's hard to imagine the pressure they must be under from their fans who (understandably) expect that they will win the tournament. It would be quite a shame if they were to lose, especially as the backlash is unlikely to be proportional to their overall performance at this World Cup."
Both teams are unchanged. Next!
India Rohit Sharma (c), Shubman Gill, Virat Kohli, Shreyas Iyer, KL Rahul (wk), Suryakumar Yadav, Ravindra Jadeja, Jasprit Bumrah, Mohammed Shami, Kuldeep Yadav, Mohammed Siraj.
New Zealand Conway, Ravindra, Williamson (c), Mitchell, Latham (wk), Phillips, Chapman, Santner, Southee, Ferguson, Boult.
India win the toss and bat
"Looks like a good pitch, looks on the slower side," says Rohit Sharma. "We understand that, whatever we do, we have to do it well."
Kane Williamson says he would have batted as well.
Barney Ronay's preview
What to do at the toss
Rohit Sharma says it doesn't matter, and India's record this year backs him up: 12 wins and two defeats batting first, 12 wins and three defeats batting second. But the new balls have done plenty under the lights on this ground throughout the World Cup, so the template for New Zealand is offensively obvious: bat first, post a par score and then run through India's top order in the first 10 overs. Just like they did in the 2019 semi-final.
The pitch switch complicates things a little, not least because there will now be a short boundary on one side. But it still feels like a bat-first day.
The first controversy of the day
Our old friend Lawrence Booth reports that today's game has been switched to a used surface, which should aid India's superior spinners, apparently to the dissatisfaction of the ICC pitch consultant Andy Atkinson.
If true – and I really can't stress the word 'if' enough, because ultimately we don't know – it's dispiriting and unacceptable. It would also be a bit weird: India are so good that there really is no need for them to manipulate anything, except maybe the seam.
It's worth stressing that last year's T20 semi-finals were played on used pitches, so this might be something about nothing. It all depends on who made the decision to change pitches at the last minute, and why.
Hello and welcome to live, over-by-over coverage of the World Cup semi-final between India and New Zealand in Mumbai. In a sense this is the first game of India's World Cup campaign. They were always going to breeze through the group stages – even if few expected them to do so in such awesome fashion – and it was always going to come down to this: two knockout games in which they will either affirm their superiority or extend their trophy drought.
India won nine out of nine in the league stage, pulverising almost every opponent and playing some of the most irresistible ODI cricket ever seen. It's pretty simple: if they maintain that standard, they will win the World Cup.
Few people give New Zealand a prayer today, even though they are the team who ran India closest in the league stage. But this might be where things get interesting. For the first time in the tournament defeat is unthinkable for India, and that can do funny things to the old thought process.
There are echoes of the 2019 World Cup, when India were big favourites to beat New Zealand in the semi-final and lost a thriller by 18 runs. That's one of eight defeats in their last 10 knockout games at ICC tournaments, many through cautious or nervous batting. The only two victories came against Bangladesh. South Africa were called chokers for less in the 1990s.
The 2013 Champions Trophy was India's last major triumph. But 10 years of (relative) failure feel less significant than 10 months of spectacular form: India have won 24 of their 29 ODIs this year. They do have weaknesses – no sixth bowler, a long tail – but the specialists have done their jobs so magnificently that nobody has been able to expose them.
India look nigh-on unbeatable. But New Zealand, serial achievers who are about to play a record ninth World Cup semi-final, know from experience that there is no such thing.
The match starts at 8.30am GMT, 2pm in Mumbai.