Key events
24th over: England 134-2 (Root 19, Stokes 10) Stokes tries to reverse-sweep Shadab, misses, stumbles, and the ball runs between Rizwan's legs and down to the rope. Sweeps conventionally next ball, but straight to the fielder.
23rd over: England 128-2 (Root 18, Stokes 9) Rauf, cartwheeling approach. England happy to dab singles here and there, he and Root exchange grins.
More on the Stones from Daniel Forman:
22nd over: England 125-2 (Root 16, Stokes 8) A loopy full toss from Shadab, Root tucks in with a smile: four.
"Morning Tanya," hello again Krishnamoorthy V.
"Cant resist the invitation to the Mick Jagger incident
Did he sing You can't get what you want Or Gimme shelter ?"
21st over: England 118-2 (Root 10, Stokes 7) Stokes pushed backwards and jackknifed as Rauf hits him on the pad. Babar considers an appeal. Stokes then powers four through point.
"Morning Tanya," Simon McMahon, hello. "Good start this from England. After Stokes' hundred in the win over The Netherlands, looks like they've timed their run well as we head towards the knockout …"
20th over: England 112-2 (Root 9, Stokes 2) Root and Stokes watchful of Shadab .
"Thank goodness for OBO," glad to be of service Showbizguru.
"Up most of the night here in Florida plagued by ankle bites from no-see-ums after a liquid day on the beach.
"They're irritating little blighters which you can't see – hence the name – which deliver a painful nip that develops into a crazed itch when the booze has worn off."
19th over: England 110-2 (Root 8, Stokes 1) Two half-centuries for Bairstow in this World Cup – he'd have hoped for more. I'm not sure how fully recovered he is from that golf injury more than a year ago. Stokes arrives at the crease, for his last innings before he goes under the knife in an attempt to mend that troublesome knee.
WICKET! Bairstow c Salman b Rauf 55 (England 108-2)
Bairstow slams the ball …straight into Salman's breadbasket at extra cover.
18th over: England 106-1 (Bairstow 57, Root 7) A handful of singles.
17th over: England 102-1 (Bairstow 55, Root 5) Bairstow picks up four from Wasim's first ball, after an appalling bit of fielding on the rope by Fakhar. Wasim not impressed.
"Kia ora Tanya," Hello Graeme Simpson!
"Emailed Rob and Tim over the last week or so advising never count Pakistan out.
"I was directing Crowe on Crowe, a profile of Marty Crowe during the 1992 Cricket World Cup and was on Eden Park in Auckland with my crew as the Blacks Caps took a lap of honour after their semi final defeat.
The doco ended on a freeze frame of a very staunch Marty waving to the crowd fade to black, fade up Brothers in Arms by Dire Straits as the first verse kicked in. Cue tears…
The week before we'd been in Christchurch to record Marty being interviewed by his brother, Jeff. Part of that was at Lancaster Park, the day before NZ was scheduled to play Pakistan in the last of the round robin.
"The Pakistani team were also at the ground for the captain's run.
What was striking was Imran Khan in an immaculate uniform, nose in the air, being followed a metre or 2 back by the rest of the squad, all looking a bit shabby.
"Never judge a book etc. The following day they handed NZ their first loss of the tournament – and, then, that doomed semi.
The Blacks Caps backed into the semis on runs differential in 2019 ahead of Pakistan and it looks like the same this year.
With India waiting again."
At least no England and a count back of boundaries…"
Sky just put up what Pakistan would have to do in different scenarios– not going to happen.
Fifty for Jonny Bairstow!
16th over: England 96-1 (Bairstow 50, Root 4) A fifty for YJB, who has found some form – if rather late in the day. Off just 52 balls. Chest out.
Enough from me between overs on Afghanistan geo-political thoughts – not sure I'm doing it justice. Will try to find some more pieces to read in the break!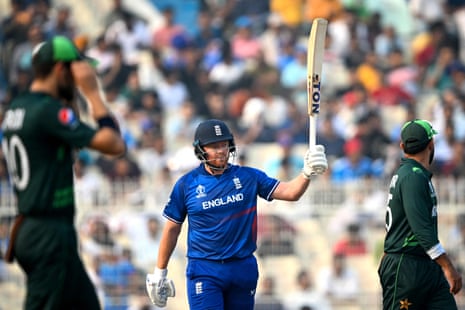 15th over: England 90-1 (Bairstow 45, Root 3) England easily pick up six with careful gardening from Wasim.
"I don't know much about the Sri Lanka situation but the comparisons between Afghanistan and apartheid era SA seem very wide of the mark" – writes Geoff Wignall.
"The sports boycott of SA had a real effect I believe, on a country where their cricketers and rugby teams were promoted for political purposes. The Afghani team can't even play in their own country. It really is an apples and pears comparison."
True – the Taliban don't care if Afghanistan play international cricket or not which is a huge difference. The comparison with South Africa was just that the government was not generally considered legitimate.
I though Emma wrote nicely on this – back in September 2021.
14th over: England 84-1 (Bairstow 41, Root 1) Root off the mark immediately with a single. That must one of England's highest opening stands of the tournament…
WICKET! Malan c Rizwan b Iftikhar 31 (England 82-1)
Malan whistles innocently but Rizwan isn't trying one on this time. Malan top-edges a reverse sweep and a sprawling Rizwan catches on his belly in the dust.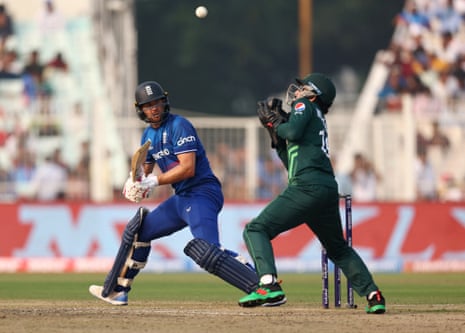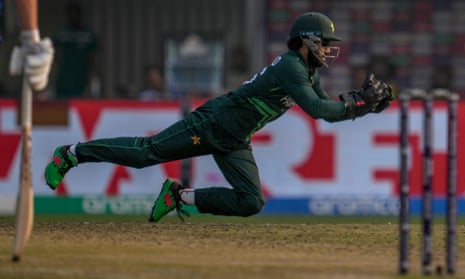 13th over: England 82-0 (Malan 31, Bairstow 40) Pakistan's change bowlers able to exert more control. Mohammad Wasim full and on point.
"Given how popular cricket is in Afghanistan (I've seen that for myself), the ICC is one of the few international bodies who could actually have some leverage over the Taliban," writes Martin Wright. "A shame they don't consider using it. But the complexities of sub-continental geopolitics, which are way above my pay grade, could lie behind that….
"In other news, are England batting with the giddy freedom of dead men walking?"
Above my pay grade too, to be honest. I remember talking to Andy Flower about it soon after it happened and he was very clear that he thought that something that brought so much joy to the country shouldn't be stopped because of the Taliban. And, also, that the Taliban really don't care either way – they have no interest in cricket. But – personally – I think the situation has gone on for too long now.
And yes, England definitely playing with end of term, marker pen on shirts, freedom.
12th over: England 79-0 (Malan 30, Bairstow 38) Malan takes a huge backlift to Iftikhar, and chops him into the ground. On the radio, they describe the pitch as "two-paced". Certainly don't fancy Pakistan chasing down England's total in the blink of an eye.
11th over: England 74-0 (Malan 27, Bairstow 34) Wasim, too, tightens things up. Just a single a piece.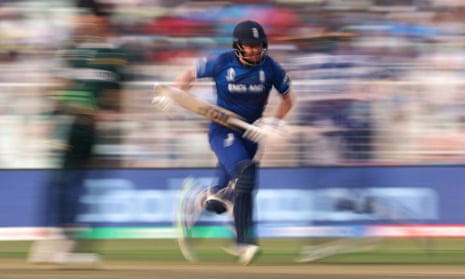 1oth over: England 72-0 (Malan 27, Bairstow 34) Apologies, my television inexplicably turned itself off. Relief for Pakistan, as no boundaries off Iftikhar.
9th over: England 69-0 (Malan 26, Bairstow 32) Malan's turn to get stuck in, and he powers Afridi for consecutive fours, bumptious and powerful.
Dhamma Service writes"The Taliban in Afghanistan is not even considered a government by most governments in the world. So no use comparing how any global organization deals with issues concerning Afghanistan (where the entire population is more or less hostage) and other countries like Sri Lanka supposed to have legitimately elected governments." Yes that is true, although during the Apartheid era, only a tiny number of people were permitted to vote in South Africa and it didn't stop Cricket from taking a stand.
7th over: England 69-0 (Malan 16, Bairstow 32) Spin, with Iftikhar. Jonny tucks in with four through backward point – Malan plonks the front foot and gets an outside edge – not where he intended but four nonetheless.
7th over: England 49-0 (Malan 11, Bairstow 27) Jonny dig his front spikes into the pitch and with perfect balance, powers Afridi's second ball through extra cover for four. Then an upper cut for six. The superbly coiffured Afridi is not impressed.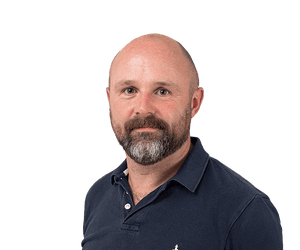 Ali Martin
6th over: England 38-0 (Malan 11, Bairstow 16) Rauf proving expensive. A wide loops over Malan and the slips before running down to the rope, then Malan pulls inelegantly for four.
Ali Martin gets in touch with a tasty nugget: "It can often be the little things for Jonny Bairstow, with today the first time during this relatively new opening alliance with Dawid Malan that he did not face the first ball of the innings. YJB's ODI average when doing so is 33, and 47 when he doesn't. In his famous partnership with Jason Roy, YJB faced the first ball of the innings just once – the World Cup group stage match against West Indies in 2019, when Roy couldn't bat due to a hamstring tear in the first innings, Joe Root opened and Chris Woakes then emerged at No3."
5th over: England 26-0 (Malan 5, Bairstow 15) A classic YJB dispatch, clubbing Afridi leg side, then a quick single.He's just starting to tick – I'm plumping fo a Jonny century today. Malan plays and misses.
And an email arrives. Morning Guy Hornsby: "Well this has a very after the lord mayor's show feel about it Tanya. Looks like England are trying to help keep the score low enough for Pakistan to still be in with a chance! I have to say the situation with Afghanistan is so utterly dismal. The ICC have shown themselves to be real hypocrites, but no one is surprised any more, are they? I think it's ok to be pleased for the men's team while agreeing they shouldn't be full members anymore, right? It's almost as if the ICC don't place womens' cricket with nearly as much importance as men. Anyway, rant over, come on lads!"
Yes, I think there was a case for watching and waiting to start with – but not now.
4th over: England 21-0 (Malan 5, Bairstow 10) Bairstow beaten by the first two balls but a thick edge brings a streaky boundary – and four more as Rauf drifts leg side and Bairstow nudges him past fine leg. Ah and that's lovely, four through the covers for Malan – three fours from the over.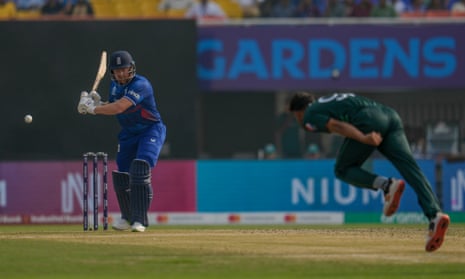 3rd over: England 7-0 (Malan 1, Bairstow 0) Malan escapes first ball as he hits the ball straight back at Afridi who, in his follow through, can't shape his hands in the right place to take the catch. Bairstow picks up a single but neither batter looks comfortable.
2nd over: England 6-0 (Malan 0, Bairstow 0) Haris Rauf's first ball is an enormous wide that attempts to cross the Bay of Bengal before ending up past the boundary rope. In his previous game, Rauf was pancaked by New Zealand, finishing with 1-85. Lots of applause for his second ball which does land on the strip. A wide on the off side follows. Then a 93mph beauty that nearly draws in Bairstow. Once Rauf finds his line, Bairstow looks all at sea.
1st over: England 0-0 (Malan 0, Bairstow 0). Shahid Shah Afridi has the ball, and Malan plays out a maiden. Low and slow.
The air pollution is "very poor"- currently 199 AQI, which is rated unhealthy – 29 times the WHO recommened safe levels. On the radio, they report a haze over the ground.
And here come the players:
Anthem time at Kolkata, as a man in the crowd pulls on a Rohit shirt the wrong way round. Harry Brook looks very jolly, Jos Buttler less so. David Willey sings his heart out.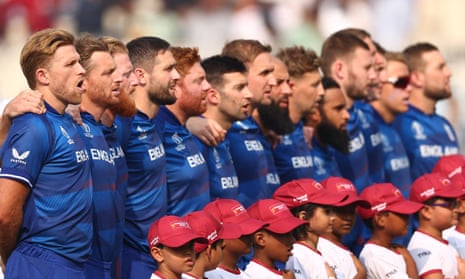 And the future of the Champions Trophy:
Our queen of women's cricket, Raf Nicholson, on the ICC.
Pakistan XI: Abdullah Shafique, Fakhar Zaman, Babar Azam (capt), Mohammad Rizwan (wk), Saud Shakeel, Iftikhar Ahmed, Shadab Khan, Agha Salman, Mohammad Wasim Jnr, Shaheen Shah Afridi, Haris Rauf.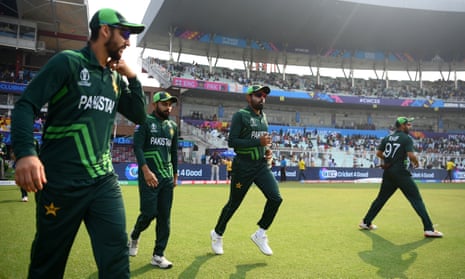 England XI: Jonny Bairstow, Dawid Malan, Joe Root, Ben Stokes, Harry Brook, Jos Buttler (capt, wk), Moeen Ali, Chris Woakes, David Willey, Gus Atkinson, Adil Rashid.
Conditions at Kolkata: black soil, lots of cracks, dry, not much live grass. Dinesh Karthick says pitch will turn, tricky to bat.
England win the toss and will bat!
Jos Buttler, forced smile and all, announces an unchanged team: "It is always nice to end that losing streak, we want to leave India with our heads held high." And on David Willey, who plays his last international game today – "He's been a great performer over a long period of time."
Babar Azam wanted to bat because of net run rate – Pakistan's theoretical push for the semis will now mean knocking off whatever England score in a sprinkling of overs. Challenge pretty much over.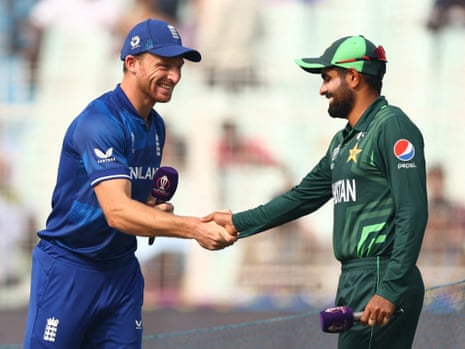 Our man on the ground tells me that England met Mick Jagger last night – insert Stones gag here.
Meanwhile Sri Lanka , have been suspended by the ICC over "government interference" – which, as many have pointed out, compares strangely with the treatment of Afghanistan, whose women's team no longer exists after the Taliban takeover.
Ali Martin's ode to the band:
Once more unto the breach, dear friends. The roundabout slowly comes to a stop, and very soon both England and Pakistan can get off: battered and bruised. But first, they must play one last match. Pakistan can theoretically still reach the semi-finals, and knock New Zealand out, if they beat England by 290 runs – which, if it happened, would blow the final gasket on England's disastrous campaign. England have no prizes to grab at, but a win would add a little honey to the saucer of sour milk, and could be added to the victories over Bangladesh and the Netherlands.
Many of those pulling on the dark blue of England won't play another 50-over World Cup -if there is another 50-over World Cup. And who knows whether Babar Azam's captaincy of Pakistan has long to run. All in all, a match to savour – careers to appreciate – just don't mention what both teams came here to do.
Play starts at 8.30am GMT – a final chance to chew over what happened to one of cricket's surethings in the hurly-burly of a World Cup campaign in India.